MKS eco WOW | Jessica's Review!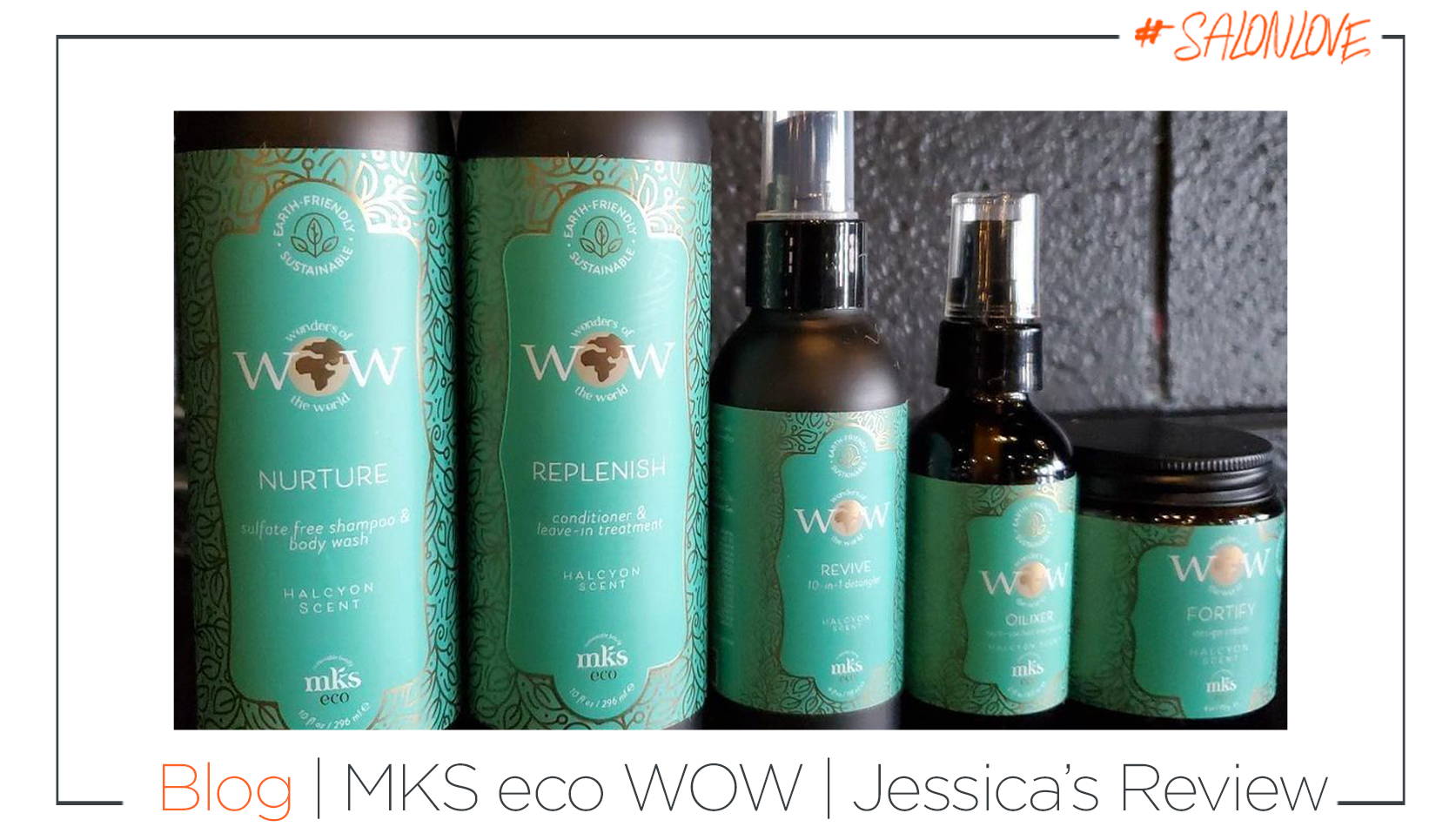 "I was blown away with how much I could love a range that isn't dedicated to my specific hair needs."
SO, the news is finally out – the Earthly Body family has launched on #Salonlove and WOW, I cannot be happier (see what I did there)! I was given the opportunity to experience MKS eco WOW pre-launch and I was blown away with how much I could love a range that isn't dedicated to my specific hair needs. After a long journey with my stylist and additional research, my hair was finally in a healthy and nourished place. I found I didn't need an intensely hydrating shampoo every wash and MKS eco WOW was an excellent choice for a new daily shampoo. Here are some of the things I love the most about MKS eco WOW:
NURTURE SHAMPOO & BODY WASH:
Firstly, the entire range of 5 products can be used by me and my whole family. The vegan formula is gently cleansing, without any harsh sulphates or parabens. Making it suitable for any hair type. I colour my hair and after spending so much money on the upkeep, I was nervous that a shampoo not dedicated to treating or maintaining coloured hair would affect the result. However, the sulphate free formula means that each product is colour safe.

REPLENISH CONDITIONER & LEAVE IN TREATMENT:
Most conditioners tend to leave your hair feeling weighted down or even oily if not properly applied but not WOW. Formulated as a leave-in conditioner, the product is weightless and easily distributed. My hair was left feeling soft and hydrated. It was nice having the option the treat my hair with a daily conditioner or a leave-in treatment, depending on whether my hair has experienced more exposure to potential causes of damage.

REVIVE 10 IN 1 DETANGLER:
Out of the five, this product was my favourite! The lightweight formula combines clean ingredients with nutrient-rich oils and extracts to help hair to feel revived. It kept my hair nourished through a week of constant heat styling while controlling my hairs usual hard to manage frizz.The Detangler also protects against heat which put my mind at ease, knowing I would need a heat protectant but was committed to trying the five products only. What's more the sustainable packaged glass bottle looks great on my bathroom shelf!
The Oilixer is a multi-use hair and skin oil, made with Earthly Body's proprietary plant-based silicone alternative making it good for your body and earth's waterways. Although I loved it for my hair, I was especially pleased with the results from using as a base for my makeup. It left my skin hydrated without the oil feeling heavy or leaving a sticky residue, creating the perfect 'clean' make-up base.
To shop the full range, click here:
Have you already tried WOW? Let us know what you think!