Our guide to the perfect bouncy blow dry!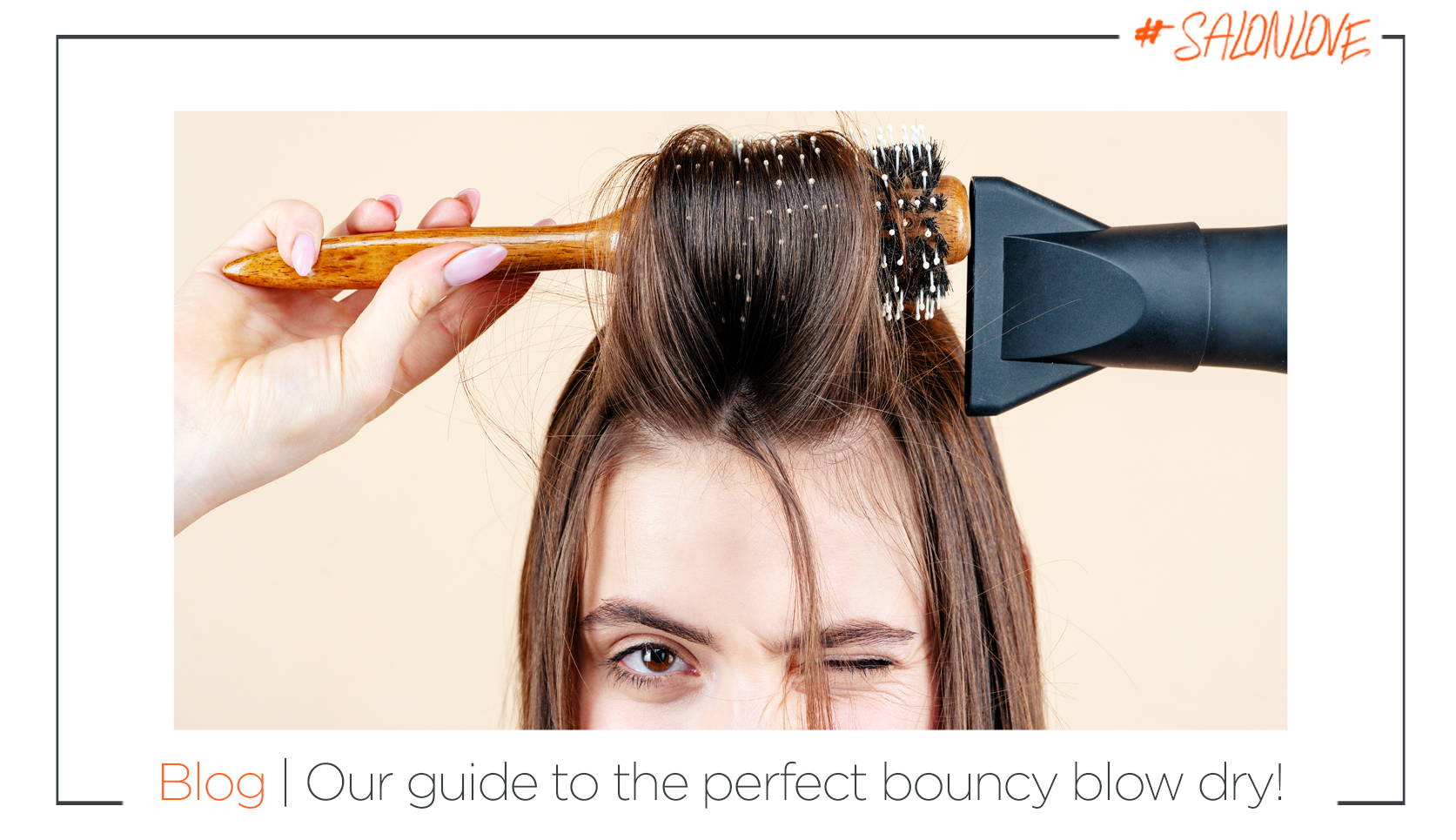 It's all about doing some upfront prep and breaking the routine into small, manageable steps.
If there is one thing for sure, it's that this year hasn't deterred you guys from pouring into salons for the perfect bouncy blow dry. Why wouldn't you? They're glamorous with longer wear and it sets you up for any occasion. However, with everyone having the same frame of mind, it's getting difficult to book an appointment so it's fresh for when you need it.
Well, a salon secret? You can achieve the look at home. It may take you a little longer and if you're not used to using round brushes, it could get tricky. Although, you've been watching your hairdresser do it for months and you have me to share our salon tips and tricks to optimise your results at home. It's all about doing some upfront prep and breaking the routine into small, manageable steps. So let me break it down for you –
Deciding to do your own blow dry can't be spontaneous – you will need to make sure you have the perfect styling kit, space, and additional time because this will determine how each step plans out. Your styling kit should include:
• Comb
• Carbon clips
• Round brush
• Volumising or Texturising spray
• Hair Dryer (obviously)
This could take a while so set yourself up somewhere comfortable, where you can easily reach your tools and have full visibility in a mirror. It's not ideal to stand in front of a bathroom sink (unless you're an extremely resilient person).
Break the rules of styling and start with freshly washed hair:
Shower with your usual routine, ensuring that the shampoo and conditioner you're using is the right one for your hair type. This might seem unimportant and you're wrong. Using a heavy conditioner on fine hair will cause the hair to become weighted and full flat.
You can read more on the importance of personalised hair carehere.
If you're regimen isn't locking in enough moisture, then you should reconsider your routine. Hair is harder to style when it is under-nourished because it is not as flexible, and hold cannot last as long.
I recommend the Eufora Moisture Intense Shampoo and Conditioner. Perfect for repairing dry and damaged hair for silky and soft results. The best blow outs look better with maximum shine.
If you're someone with super hydrated hair but it still falls flat, this could be because your hair is too weighted to achieve any real volume. If this is the case, best to get all the help you can. The Eufora Bodifying Shampoo and Conditioner is a rejuvenating shampoo that delivers soft body and bounce. I don't even need to tell you what would do for your result.
Squeeze out the excess water:
You can do this with a towel. If your hair is known to retain water, then you will need to partially dry with a hair dryer. Styling products work better on damp hair, you should aim for 70% dry and 30% wet.
A good quality volumising spray will help with adding volume and texture while giving the final style extra hold.
I recommend the Sens.ús T@BU Volume Builder. It provides volume while producing hold for light, bouncy and full-bodied hair. What makes this one so different from every other volume builder? The new fixing power of this mousse with smaller molecules gives volume to the hair and maintaining light and bouncy ends.
Next, you'll need to comb your parting in place. A helpful tip, side partings are a great way of adding volume to the hair and giving off extra bounce. Alternatively, you can part your hair down the middle and add the side parting after styling, for a messier and more relaxed bounce.
Section clips (or carbon clips) is like the extra pair of hand you have always needed. That makes them an essential styling tool – ask any hairdresser, they'll tell you!
The easiest way to style a blow dry is by section into 4 sections, essentially a cross in the middle of the crown.
Choose the right brush for your style, the rule is the smaller the brush the smaller the wave. To create big and bouncy waves, use a larger round brush. For shorter hair, a larger round brush will only add movement and volume, not waves.
Save this image for when you're ready to get styling: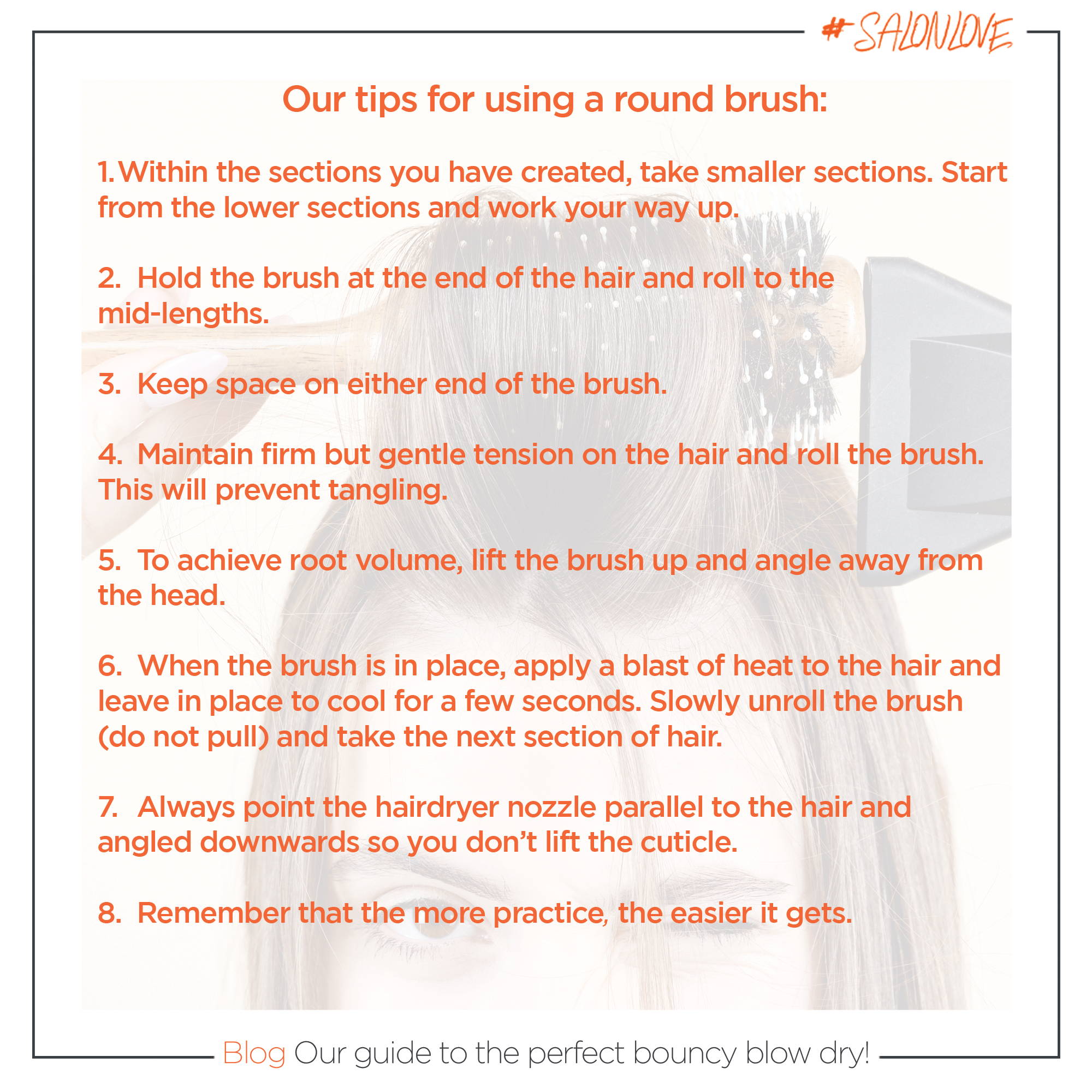 This step is not necessary but a little added hold and shine never hurt anyone. We recommend using Eufora Style Tame, a brushable frizz control spray that provides light control and protection from frizz. You can find your perfect finish, depending on your styling needs here.
Additionally, you can use Eufora Style Gloss. They dry shine spray achieve a high-gloss Hollywood shine without adding any moisture or weight to the style.
We want to see your glamorous finishes. Post the look to Instagram and tag @Salonloveshop with the hashtag #Salonlovesbouncyblowdry.
Follow our blog for more product breakdowns and reviews!