Tips to Keep Your Extensions Healthy!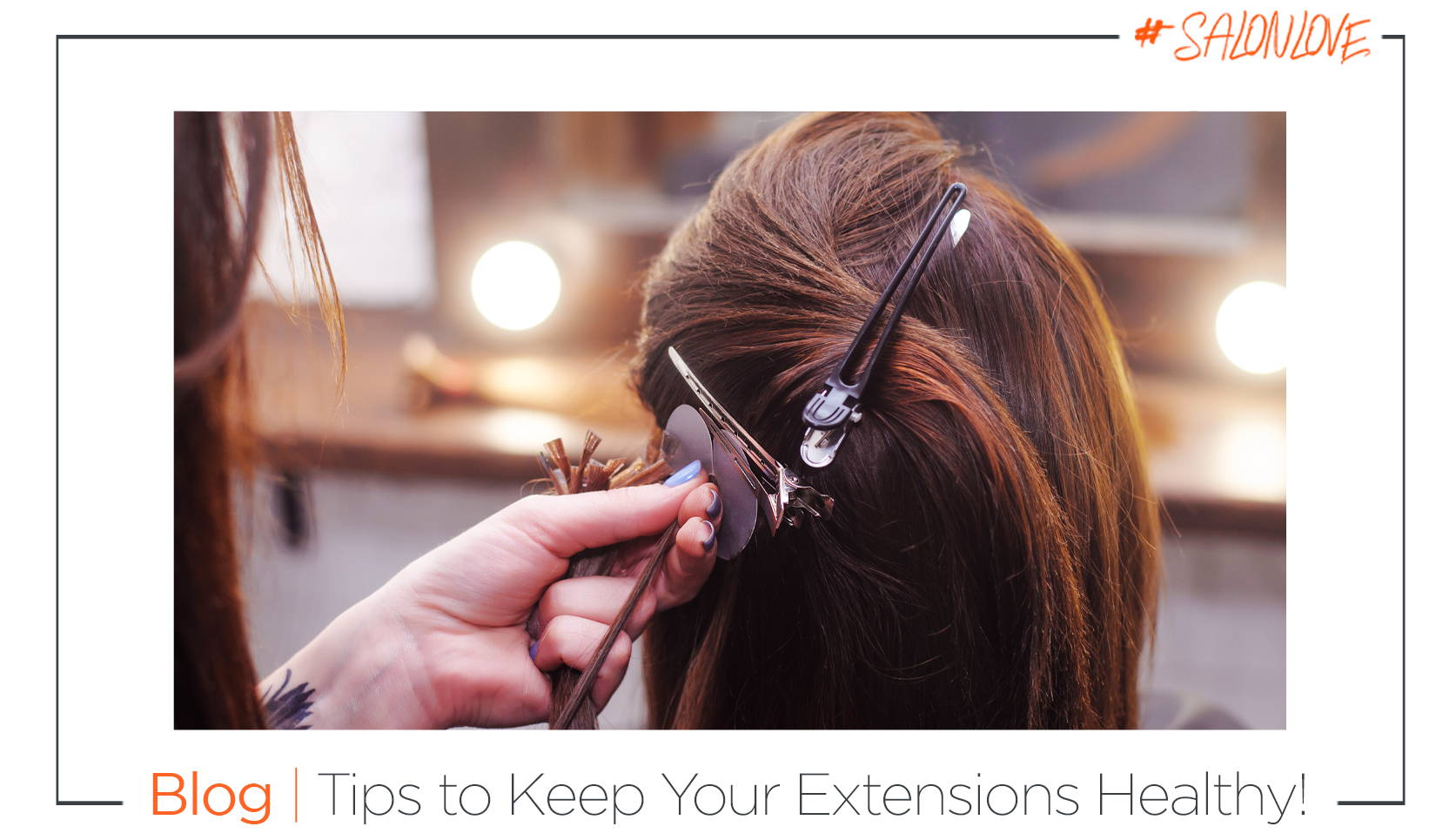 "Knowing your hair history, and your hair care habits, they will be able to recommend methods or extensions without risking your real hairs' integrity."
Whether you are looking for ways to add length, volume, or a style change, hair extensions seems to be a popular option. They offer flexibility and the joy of "hair-ography", but without listening to stylist advice and not taking proper care of them, it can quickly become a disaster. Untreated extensions can end up with you having matted hair, dull strands or irreversible damage to your real hair. Treat your extensions you would your real hair, after all, you're investing into healthy hair.
There are plenty of types of extensions that you can invest in, but our recommendation is you book a consultation with your stylist. Knowing your hair history, and your hair care habits, they will be able to recommend methods or extensions without risking your real hairs' integrity.
Replace Extensions regularly
Even with the strictest TLC, hair extensions cannot last forever. Stylists recommend replacing extensions every six to eight weeks, depending on how fast your hair grows. You will know it's time to ditch the old extensions, when the install is visible, and your hair no longer looks like the style you started with.
There are some types that will last longer. Some strand-by-strand extensions can be worn up to six months. However, without monthly maintenance, they can't. Book monthly appointments for full maintenance of your extensions. You can tell when it is time to take them out, left too long the beads rooted at the top of the strand can become distorted and damage hair while trying to remove them. If you aren't someone that can commit to four-six weekly appointments, you may be willing to try clip in extensions.
Install your extensions correctly
In this case, maintenance starts at the beginning. Optimal care starts with how you install the extensions. Always make sure that extensions are installed by a professional who has been trained in the extension method. Extensions, like other complex hair techniques, should not be attempted at home. Incorrectly installing them can lead to damaging your natural hair, resulting in early removal of the extensions.
A common mistake anyone makes when they spend money on their dream hair is that not washing it as often will make it last longer. When, in fact, it is the exact opposite. Even though the hair isn't real, you should be taking care of the hair and scalp underneath. It is not recommended to wash your hair as frequently as this can cause the install to loosen, meaning you wouldn't get as much wear from the style. Stylists recommend that you wash and condition at least every other week. Try to wear your look for as long as possible between washes, then be gentle with your roots when you finally do the cleanse.
You should note that with hair extensions, you want to ensure you are taking care of your scalp. It is easy to forget that the scalp is still skin, the largest organ on your body. The types of products you use are equally important as application. #SalonLove recommends the Malibu C Wefts & Extensions Wellness Collection. This removed build up to keep your wefts and extensions looking clean and oh-so-fresh! With patented vitamin technology, our 100% vegan formula delivers exquisite results without damaging the natural hair or connections. This is perfect for prep or maintenance.
Brush your hair daily and every time you take your extensions out
If you're working with straight extensions, use a paddle brush. If you are working with curly hair, use a wide tooth comb or detangling brush when hair is wet and conditioned.
Don't use too many products
Sometimes more does not equate better and if you are a product hoarder, this could be your demise. If your extensions are straight or silky and non-synthetic, do not use too much product throughout the style because it is already straight hair and usually stays well. Stylists recommend using only heat protectant, dry shampoo, or shine spray. A de-frizzing cream, paired with a paddle brush, is a great way to keep your hair straight and sleek.
Here are our tips to keeping your extensions healthy for as long as possible, without risking the integrity of your hair. If you are looking at how extensions would work for you, we recommend reaching out to your stylist for a professional consultation.
We reached out to Victoria Lynch, the Managing Director at Additional Lengths to find out her tips on keeping extensions healthy. Here is what Victoria had to say: "To keep hair extension healthy, you need more than just Shampoo & Conditioner. Using a good quality hair oil as well as other aftercare products, helps maintain the life and longevity of your hair. Use these products whilst the hair is damp so they are absorbed and helps the hair retain a good level of moisture that maintains that healthy natural look and ensures easy manageability."