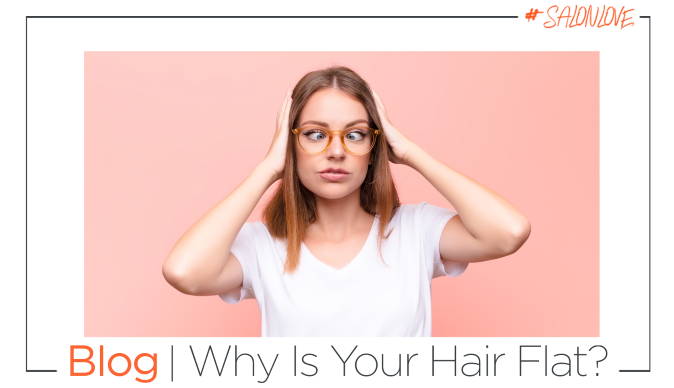 We have all seen models and celebrities spread across magazine covers with the most fashionable looks and glam face looks. However, if there is one thing, we are more jealous of? It's the voluminous hair that only seems attainable by having a celebrity stylist on staff. Unfortunately, there are many reasons why hair may appear flat, either genetic, environmental, or circumstantial.
The first task in tackling flat hair is to figure out what the cause is. We are listing five reasons why your look may be falling flat.
However, if there is one thing, we are more jealous of? It's the voluminous hair that only seems attainable by having a celebrity stylist on staff.
Grease is the most common culprit of flat hair. Grease is caused by humidity, dirt and natural oils produced throughout the day that starts to weigh down your hair. Fortunately, this is a very easy issue to overcome. Dry Shampoo. This quick and efficient product absorbs any excess oil. My favourite is the Eufora Style Fresh Effect that instantly refreshed my 2nd day hair. Unlike some other brands it doesn't leave any sticky powdery residue or grittiness.
Having fine hair has its perks, namely manageability. However, it always comes with its downfalls. Fine hair tends to result in a flatter appearance as it lacks natural texture. The quickest and most temporary fix would be teasing. However, if you're looking for something more permanent then you could try the Eufora Thickening Scalp Treatment. This breakthrough scalp treatment works to stimulate the scalp and hair follicle, resulting in thicker, fuller hair. Team this up with Eufora Thickening Serum to aid styling and promote that fresh swishy blowdry effect.
Much like fine hair, thin hair is commonly genetic although can be caused by diet or health blips. However, there is a difference between thin and fine hair. Thin hair is when you have little hair or balding areas, which results in a flat appearance. A quick remedy would be to add clip-in extensions. Although, this doesn't fix the problem and constant extra weight on your already vulnerable hair could create damage. For a more permanent solution, try the Eufora Thickening Regimen Kit. A 30-day kit to achieve thicker, fuller, and healthier hair. This kit includes Eufora Thickening Cleansing Treatment (1), Eufora Thickening Conditioning Treatment (1), Eufora Thickening Serum (1) and Eufora Thickening Scalp Treatment (1).
Flat hair can also be the result of an unrefined hair styling routine. If you're using a hair straightener, do not iron all the way from the end to the roots, as this will cause you hair to look flat. Alternatively, combat this flatness with a bit of teasing and a hairspray. Try Eufora Style Boost, a root lifting spray that provides lasting volume and control at the root line. Fine and flat hair will look and feel thicker and fuller.
5. You could be using the wrong products for your hair
This is not your fault. Not everyone is aware of the importance of personalised hair care, and many are happy walking into haircare aisles and grabbing any shampoo or conditioner on the shelf that says it does what you are looking for. However, it's a little more complicated than that. No two types of hair are the same so it is unlikely that a product that says it maximises volume will give you the best result on its own. You need to investigate products tailored to you and your hair type. You can shop by hair type on #Salonlove (https://salonlove.shop/) or DM us if you would like a stylist recommendation for your hair! It's not just the products but how you apply them. For example, applying conditioner to the roots or towel drying your hair with a rough towel will result in flat and damaged hair. Therefore, is important to read the label on the bottle that explain the best way to apply.
At first, diving into the problem may seem scary and overwhelming. However, these are simple adjustments you can make to your bathroom shelf and routine to maximise the results, leading to more voluminous hair in no time. Take your time exploring what works best for you and trust the brands you choose to purchase from. If you have any questions about your hair journey, DM #Salonlove and our team will do their best to assist you.
Follow us: @SalonLoveShop to see our sustainable journey and the ways we will continue learning to make a difference.