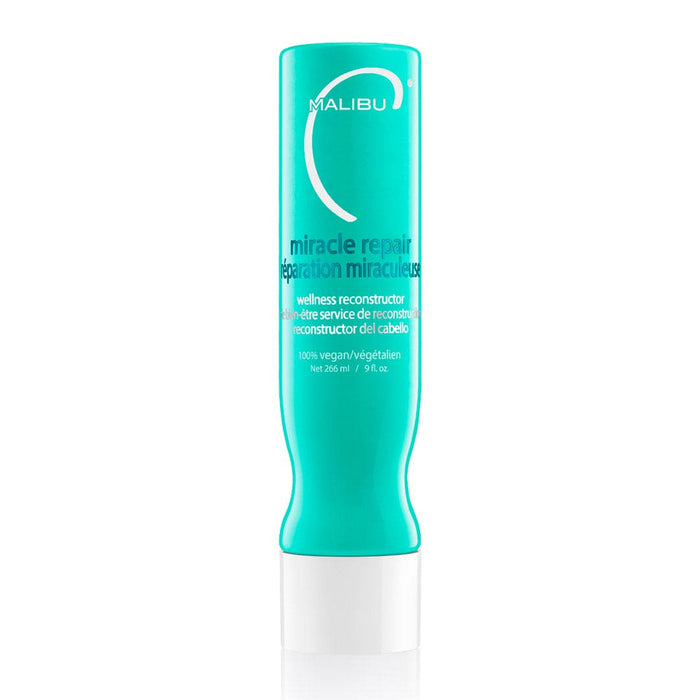 Malibu C Miracle Repair Reconstructor 9oz
Original price
£32.00
-
Original price
£32.00
Witness a deep conditioning miracle with this 100% vegan treatment ideal for feeding nutrient-starved strands that is packed with gluten-free plant proteins and enriched with Pro Vitamin B5 for mega-moisturizing. Wellness tip: Use immediately following your favorite Malibu C® Wellness Treatment once a week for a sweet tease of our famous in-salon Malibu MakeOver. Your hair will thank you.
Details

Benefits:
- Immediately repairs damaged hair
- Seeks out weak, damaged areas of hair
- Instantly detangles
- Restores manageability
- Nourishes and protects every strand of hair

Features:
- Mega-dose of gluten-free plant proteins that penetrate deep into the hair shaft
- Enriched with provitamin B5 to help replenish vital moisture to hair
- 100% vegan and cruelty-free
- NO: parabens or gluten
- Key wellness ingredients
- Allantoin
- Flax protein
- Provitamin B5 (panthenol)
- Quinoa protein
- Rice protein

How To Apply

Directions: Following shampooing, apply Miracle Repair and allow to remain on hair for 3-5 minutes, then rinse. For severely damaged hair, apply Miracle Repair, cover hair with a Professional Processing Cap and expose to heat for 5-10 minutes, then rinse.

Notes: May be used weekly or as often as desired. Not recommended immediately prior to a chemical service. When processed following a chemical service, heat is not recommended.
Key Ingredients

- Allantoin: Protects scalp and prevents irritation and inflammation.
- Botanical Extract Complex: Promotes skin barrier repair to prevent dry, irritated skin.
- Linseed Extract (flax protein): Gluten-free, plant-derived protein; excellent for hair repair as it penetrates and immediately strengthens the hair shaft.
- Panthenol: Pro Vitamin B5. Penetrates the hair shaft to replenish vital moisture to dry, damaged hair.
- Quinoa Protein: Gluten-free vegan protein functions as a powerful humectant and penetrates to the cortex of the hair shaft offering significant repair.
- Rice Protein: Gluten-free protein enhances the manageability and body of hair. Smoothes cuticle; improves gloss and texture while providing a barrier on damaged, oxidized hair.