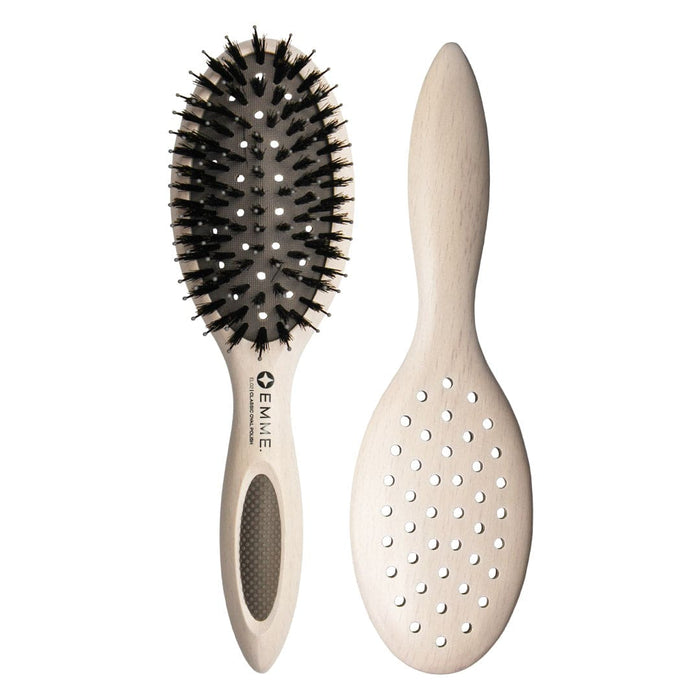 EMME EL02 | Classic Oval Polish
Original price
£22.00
-
Original price
£22.00
Indulge in the ultimate hair care experience with our EL02 Classic Oval Polish Hair Brush by EMME. A captivating twist on our classic oval brush design, this exquisite brush is meticulously crafted to enhance the natural shine of your hair.
Vented Cushion Pad
Featuring a vented cushion pad that allows for effortless airflow during styling. This innovative design helps to reduce drying time while evenly distributing heat for a more efficient and gentle styling experience.
Round Tipped Ionic Nylon Bristles
Round-tipped ionic nylon bristles that glide through hair with ease, gently detangling knots and minimising breakage. These bristles also boast our Negative Ion Technology reducing frizz and leaving hair looking smooth, shiny, and beautifully styled.

Boar Bristle For Enhanced Shine
Unlock the full potential of hair's natural shine with EMME's responsibly sourced boar bristles. These bristles work harmoniously with the hair's natural oils, distributing them from roots to ends, resulting in lustrous and healthy-looking locks that exude radiance.
Rubber Cushion Handle Insert
Strategically placed providing a soft and ergonomic grip for effortless control and manoeuvrability. Say goodbye to fatigue and hello to comfortable styling sessions.

Solid Wood Construction
EMME believes in the beauty of sustainability of natural materials. Our brushes are expertly crafted from sustainably sourced European Beech Wood, providing a durable and environmentally-friendly alternative to plastic. The solid wood construction ensures long-lasting performance, resulting in reliable tools for professional stylists, salon use and use at home.

Sheer White Satin Finish
The Lagom collection is finished in a sheer white satin, showcasing the natural beauty of the wood grain. The elegant and timeless design reflects the minimalistic aesthetics of Scandinavian culture, adding a touch of sophistication to your hair care tool box.