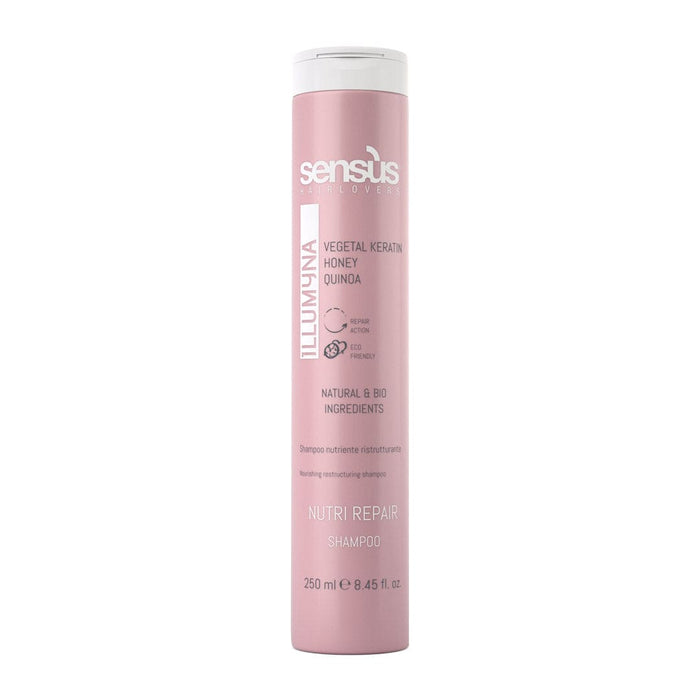 Sens.ús Nutri Repair Shampoo 250ml
Original price
£9.90
-
Original price
£9.90
Nourishing restructuring shampoo with plant-based keratin, honey and quinoa. Gently cleanses hair, leaving it silky to the touch, while restructuring and hydrating it deep down. SLS/SLES Free

Ideal for: Dry, frizzy hair that undergoes frequent technical treatments.
What is it for: To nourish and restructure
How to use: Apply evenly over scalp and wet hair. Massage well, rinse and repeat if necessary. Pair with the nutri repair mask.

What It Does

Strengthens and boosts hair fibers and improves their
elasticity. Repairs the structure of damaged hair.

Leaves hair looking shiny and hydrated, while protecting
it. Guarantees protection, shine and a long-lasting color.

Protects hair, leaving it soft and smooth.
How To Apply

Apply evenly over scalp and wet hair. Massage well, rinse thoroughly and repeat if necessary.
Key Ingredients

VEGETAL KERATIN | A blend of 18 plant-based amino acids, it is rich in the amino acid cysteine. It creates sulphur bridges that give hair greater strength.

QUINOA | Contains natural proteins that protect and condition hair and make its color last longer. This active ingredient is natural and gluten free.

HONEY | Made from nectar gathered from flowers and converted by worker bees; it contains sugars that make it an emollient active ingredient, and flavonoids and polyphenols with antioxidant properties.