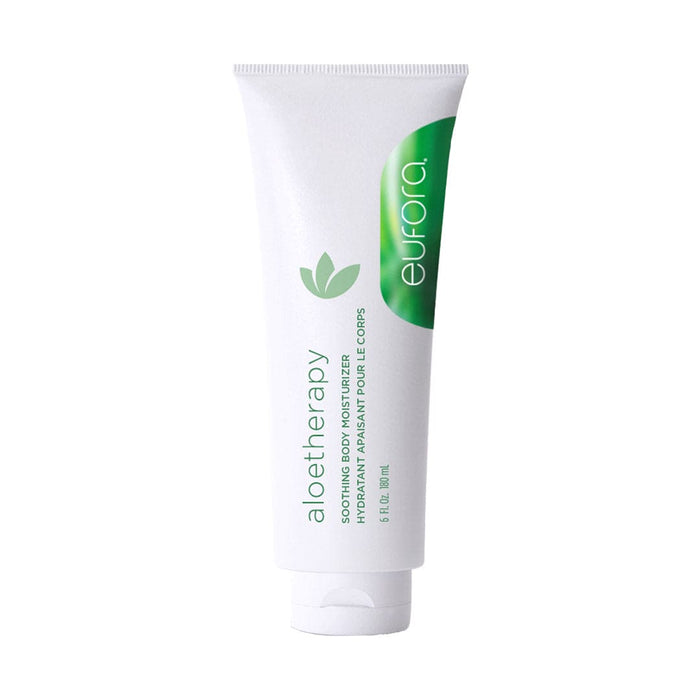 Eufora Aloetherapy Soothing Body Moisturizer 6oz
Original price
£22.00
-
Original price
£22.00
This versatile lotion helps soothe and calms skin by delivering instant moisture and hydration from head to toe. Soothe and soften skin with a non-greasy, powerfully formulated with Aloe Stem Cells, Oat and Water Lily to rebalance and hydrate. Perfect for after sun soothing.
What It Does

Smoothes and softens the skin. Permeates the layers of the skin to deliver
advanced nutrients that promote the healing of many skin conditions.
How To Apply

Apply liberally to face, neck and body. Massage product in a circular
motion. It is a good habit to check your body for any irregularities or pain
whenever you apply any new body product. Use on cuticles and nails to
promote nail growth.
Key Ingredients

• Certified Organic Aloe Vera provides important nutrients, essential
amino acids, moisture and legendary rejuvenation benefits necessary for
optimum scalp and hair health
• Aloe Stem Cells, known to multiply the molecular potency by 1000x or
more to help soothe and calm irritated, dry skin. Contains
Polysaccharides and Glycoproteins to stimulate skin repair and growth
and reduces inflammation
• Water Lily, a natural moisturizer, provides instant hydration. Contains
Vitamin C, a potent antioxidant to help fight against free radicals
produced by external aggressions. Also known for its anti-inflammatory
properties, that help to reduce "stinging" and irritations which cause
redness, pain and discomfort
• Oat Avenanthramides: A concentrated fraction from colloidal Oatmeal.
Contains anti-irritant and anti-oxidant properties. Scientifically proven to
reduce redness and itch to soothe and relieve dry skin
• Phospholipids and Ceramides replenish the skin's own supply to help
increase the skin barrier function
• Vitamin A, C, D & E complex provides increased skin elasticity, improves
circulation and cell growth
• Aromatic Extract blend for an aromatherapy experience