National Singles Day | #Salonlove's Favourite Singles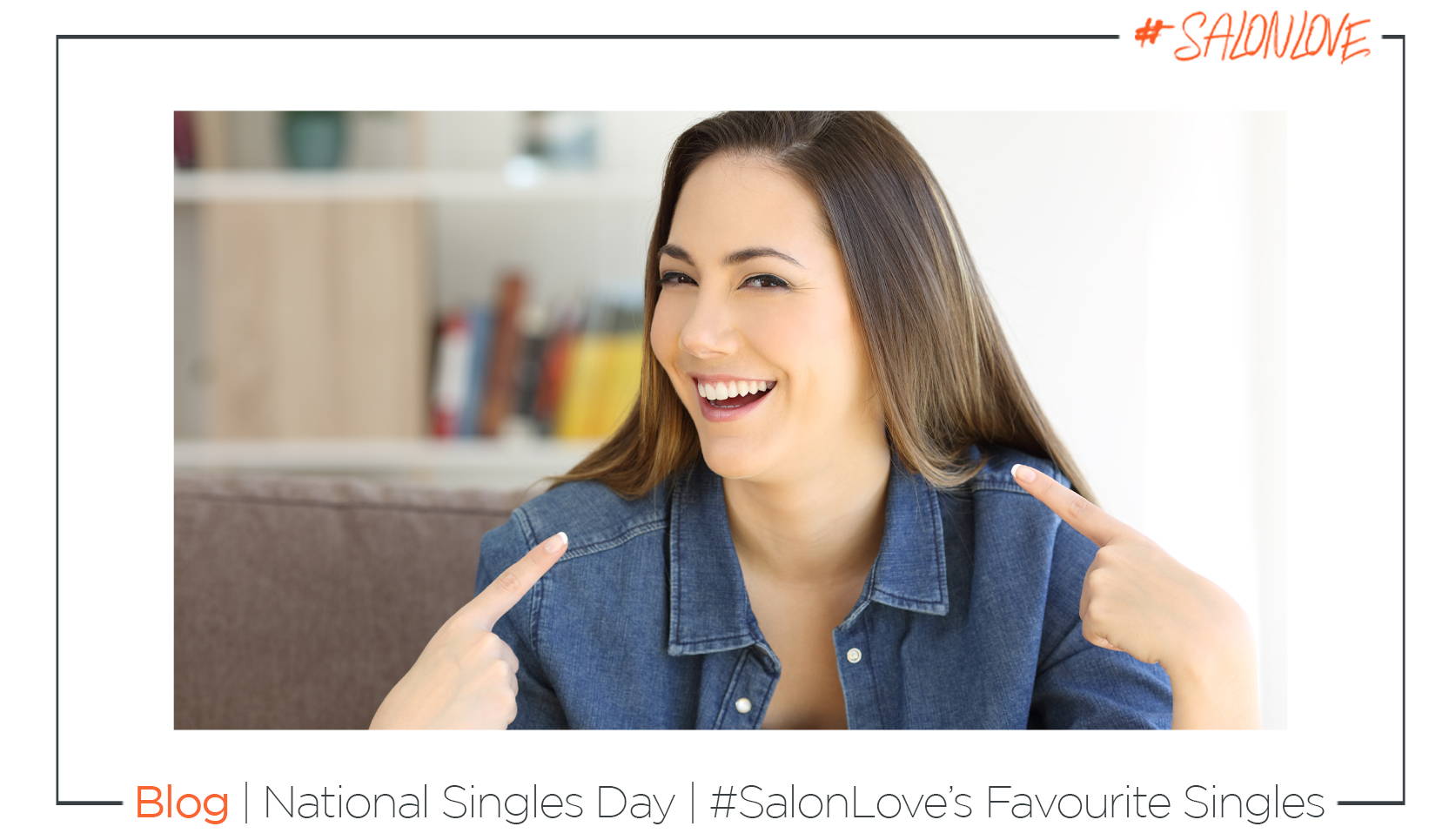 Saturday 25 September 2021 | Happy National Singles Day!
It's National Singles Day and to celebrate, I thought I would take time to review some of my favourite 'singles' that #Salonlove has to offer. For me, it's important that my salon only stocks the best products that have been proven to do what they say they do. After all, these are the products I expect my stylists to use and recommend with confidence. With so much uncorroborated information out there on the internet, it's important that we have a brand we can trust, and that's #Salonlove.
"With so much uncorroborated information out there on the internet, it's important that we have a brand we can trust, and that's #Salonlove."
Nourishing Styler: The Nourishing Styler is what most would call my 'desert island' product. It's what I use on my hair and what I recommend to anyone in the market for a good quality styler with the added benefit of infused keratin to help your hair feel smoother and healthier. With a smart design, the styler has a fuel 'cap' to add the Keratin fuel. Keratin is the strong, fibrous protein found in hair. However, a common problem when facing brittle, limp, dry hair with high amounts of breakage and porosity, is protein (KERATIN) imbalance. HH Simonsen have added 'keratin fuel', which works by smoothing down the cells that overlap to form hair strands. These layers of cells absorb the keratin resulting in hair that looks full and glossy. Since using this, clients with curly hair have noticed that it is less frizzy and easier to style. If you're on the lookout for a styler that is guaranteed to leave you with good hair day every day, then I would suggest the HH Simonsen Nourishing Styler.
XS Compact Dryer: Having a good hair dryer is imperative but even being a hairdresser, sometimes I bypass the drying process of my hair because of the time it can take to dry. However, this is the worst thing to do for the scalp. I will put it this way: What happens to your skin after sitting in a bath for too long? It wrinkles and then eventually dehydrates. Well, this is the same for the scalp. Therefore, at the very least, I make sure to always dry my roots. With the compact dryer XS, drying hair fast is a doddle. The dryer has aerodynamic wings and ionic technology for strong airflow, a frizz-free result and quick drying that will have you ready to go in no time! With its smaller size, it can take up position on the vanity permanently, be neatly packed away and saves space in your suitcase.
Soothing body moisturiser: With winter just around the corner, you should make sure you have a high functioning moisturiser in your arsenal. The Eufora Aloetherapy Soothing body moisturiser is a versatile lotion that helps smooth and calm, acting as the perfect after sun in the summer or combating overly weather battered skin in the winter. This vegan formula delivers instant moisturisation and hydration from head to toe. I love this moisturiser! It's the perfect all year around product so I don't need to worry about repurchasing other types that target something different.
Elixir One: If there's one thing I've found a client loves to see, it's hair looking healthier. Usually, this is through shine. That's why at the end of any appointment, I use the Eufora ElixirONE (Damage Cure Complex) serum. This hair perfecting potion syncs with the hair to create movement and glorious shine. Many of my clients end up picking this up for themselves, great for pre and post styling and keeps your salon created look fresh and healthy.
Rush hairspray: T@BU RUSH is absolutely a must have! Many hairsprays create a layer over the hair strands, rendering the individual strands immovable, creating stiff styles that don't have any life to them. With Rush, the medium control spray fixes and holds your hair in place without the stiffness. I love using this to fix my hair in place. Especially as hair can be restyled even after it's applied. This makes it the perfect product for long days and even longer nights with the girls! The day to night spray continues to hold restyled hair until being brushed out, fuss free. I also use this on my wedding clients because of the long-lasting effects that will give hold from walking down the aisle to the last dance at the reception.
Smooth: When a client asks me what they should start with as a first step to embarking on their hair journey, I always say heat protection! This is so important otherwise all the progress you make is being undone by high temperatures frizzing, drying, and damaging your hair. Most of the time, this is a step that just isn't considered, especially if you already use other products like leave-in treatments or hair masques. The Sens.Us T@BU Smooth is a great holy grail product that everyone should make sure is in their daily hair routine. Smooth uses the latest-generation resins in the formula to protect hair against heat and frizz. It gets better! These same resins also wrap around the shaft, making styling easier. This creates a great base to begin styling for any occasion.
Hard Water Wellness Remedy: You may not know this but the effect of hard water on the hair can make or break the outcome of a salon visit. Hard water has a high mineral content, more specifically high amounts of calcium and magnesium. When you wash your hair, these excess minerals are left behind and form an undetectable sheen. For example: have you ever run a shower and even after turning the water off and allowing the water to settle, a misty sheen is left behind on the shower screen? Well, that is the impact hard water has. These excess minerals build up and add weight to your hair, making it flat and lifeless. The weekly Hard Water Wellness remedy restores the life of weighted down hair and reintroduces body, bounce, and brilliance. Hard water will also affect colour as the excess minerals lying on the shaft react with the dye, often resulting in brassiness, discolouration or colour not being able to deposit onto the hair directly making it 'disappear' after washing. I recommend to anyone thinking of getting any colour in the salon to pick up a Hard Water wellness remedy to wash away those excess minerals and give your hair the best chance to look the same as your inspiration image.
Un-do-goo Shampoo: Detoxing shampoos are a must have! However, it's difficult to know which is better for your hair. Let me tell you, its Malibu C Un-do-goo shampoo. Not only do I use this myself, but I also use it on nearly every single client I have. This chelating shampoo is uniquely gentle, not dehydrating the hair shaft like most harsh clarifying shampoo. It's perfects for removing styling resins from the hair with its sulphate-free cleansing system and a mix of botanicals and moisture-boosting vitamins. Plus, it smells great! The mixture of orange zest and vanilla bean makes for the perfect subtle summery scent.
Follow us: @SalonLoveShop to see our sustainable journey and the ways we will continue learning to make a difference.