Sens.ús Hair Products: A Monthly Roundup of Best Sellers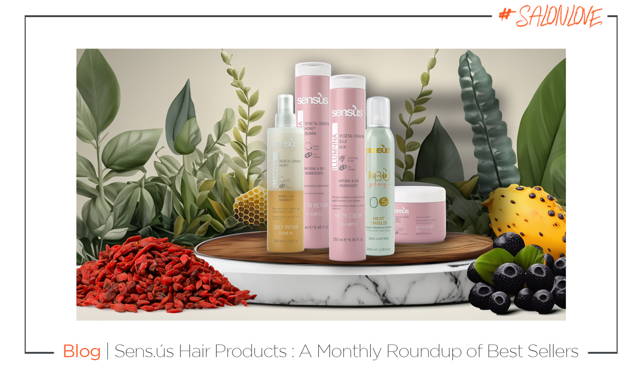 "It's always exciting to discover gems that make a difference and can help people achieve their desired hair goals."
Hey there! I'm Daniel, one of the co-founders, at #SalonLove and I have been in professional haircare for the past 16 years. Throughout my career I've had the opportunity to try, review and work with some amazing hair products. It's always exciting to discover gems that make a difference and can help people achieve their desired hair goals.
In this blog post I want to share with you my five picks for Sens.ús hair products that are currently selling like hotcakes. These products are specifically formulated to address types of hair and specific concerns ensuring that there's something for everyone.
Not only will I provide you with a rundown of these products but I'll also give you detailed instructions on how to make the most from each one. Whether you're longing for hydration,for your locks,battling frizz control or looking to safeguard your vibrant colour,rest assured that all your needs are covered.
The Significance of Choosing the Right Hair Products
If your hair is important to you and you want beautiful hair, you should take the steps to care for it. This means not only visiting your hairdresser regularly, but also using the right cosmetics for your homecare. How do you choose the right hair care? It is not always easy due to the wide range of products available. Firstly, it is important to determine your hair type correctly, only then can you choose the right products for your hair. Watch the video series on How to identify your hair type by Debbie.
Why Sens.ús Hair Products Stand Out
My personal challenge was for a very long time my scalp, sensitive and itchy when not looked after correctly. Part of my haircare routine has been the inclusion of the Illumyna Scalp range ( Detox-Hydra Pre Cleanser is a must have for me). I do ensure what goes on my hair will not have a negative impact on my scalp & skin.
For 20 years Sens.ús has created products for the professional hairdressing market, the research and development that goes into creating their products guarantee the highest levels of Quality, Safety, and Innovation in order to offer the best possible personal care products.
In the world of cosmetics, products require both highly specialised technologies and a sensitive balance between function, effectiveness, safety and quality of the end result. The secret? Well, precious ingredients directly from nature proven to support healthy scalp and hair. Sens.Us is packed with "hair & scalp" goodness!
LIST OF INGREDIENTS [ https://www.ilovesensus.com/ingredients/ ]
The Monthly Best Sellers from Sens.ús
The Sens.ús brand has many great solutions for a healthy scalp and hair as well as prep & style products for beautiful style creations. I want to share with you the current TOP FIVE Sens.ús products on #SALONLOVE
Sens.ús Nutri Repair Mask
Indulge your locks with our rich, plant-based keratin mask, enriched with the natural goodness of honey and quinoa. Specially formulated to provide deep nourishment and hydration, this mask is a true saviour for dry, frizzy hair that endures frequent technical treatments.

- Gently cleanses and revitalises hair, leaving it irresistibly soft and manageable.
- Penetrates deep to restructure and infuse a surge of moisture.
- Free from SLS/SLES, ensuring a mild yet effective treatment.
This mask is designed to intensely nourish and fortify, bringing new life to your hair.
Those with dry, frizzy hair that undergo regular technical treatments.
After washing, apply the mask evenly to towel-dried hair. Allow it work its magic for 3-5 minutes, then emulsify and rinse thoroughly. Revel in hair that feels remarkably rejuvenated.
Sens.ús Nutri Repair Shampoo
Experience the magic of our Nutri Repair Shampoo, an enriching blend of plant-based keratin, honey, and quinoa. This gentle yet powerful formula takes your hair on a journey of transformation. As it delicately cleanses, it leaves your hair with an exquisite silkiness that beckons touch, all while working its magic deep within to restructure and hydrate.
- A luxurious cleanse that leaves your hair irresistibly silky.
- Nourishes and deeply hydrates, fortifying hair from within.
- Proudly SLS/SLES Free, ensuring a yet effective cleanse.
Designed to provide the nourishment your hair craves while restructuring it's very core.
Dry, frizzy hair that frequently undergoes technical treatments.
Apply evenly to both your scalp and wet hair. Work up a rich lather with a gentle massage, then rinse thoroughly. For maximum results, you can repeat the process if needed. To supercharge your hair's revitalization, pair with our Nutri Repair Mask.
Unleash your creativity and define your perfect look with confidence and flair! Experience the magic of our Protective Heat Spray, designed to elevate your styling game to new heights. Crafted to offer shape, structure, and definition, it's your go-to companion for playful styling sessions.
- Guards the hair shaft against extreme temperature fluctuations during hot styling sessions, preserving its natural moisture levels.
- Activates thermodynamic properties, creating a shield that helps retain essential moisture within the hair shaft.
This powerful shield is your ally in ensuring your hair remains vibrant and healthy, even in the face of high heat.
Those seeking ultimate hair protection during heat styling.
For an accelerated styling process, apply to damp hair. For an added 'shield' effect, use on dry hair. Either way, you're ensuring your hair remains protected and primed for your unique style.
Sens.ús Daily Repair Leave In
Elevate your hair care routine with our nourishing bi-phase spray, meticulously crafted to bring hydration, nourishment, and detangling magic to your locks. Enriched with the goodness of plant-based keratin and honey, this leave-in formula works its wonders without the weight, delivering support and radiant shine.
- Delicately hydrates and nourishes, leaving your hair effortlessly tangle-free.
- Adds support and a brilliant shine, without the burden of heaviness.
The ultimate goal is to infuse your hair with hydration and banish tangles, all while enhancing its natural lustre.
Those with dry, frizzy hair that frequently undergo chemical treatments.
Before each use, give it a good shake to blend the two phases perfectly. Then, spray it evenly across either dry or damp hair. There's no need to rinse - just enjoy the instant, lightweight nourishment.
Sens.ús Nutri Color Shampoo
Indulge your coloured or highlighted locks with our protective elixir, featuring a powerful blend of plant-based keratin, goji berries, and acai. This exquisite shampoo takes delicate care of your hair, imparting a dazzling shine and enduring hydration that safeguards your colour's brilliance.
- Gently cleanses while infusing a luminous shine, extending the life of your colour.
- Packed with nourishing ingredients for vibrant, long-lasting hues. proudly SLS/SLES Free.
This shampoo is formulated to enrich and protect, ensuring your colour remains as stunning as the day it was applied.
Those with coloured or highlighted hair, seeking to maintain their vibrant shades.
Apply evenly to both your scalp and wet hair. Work up a rich lather with a gentle massage, then rinse thoroughly. For maximum colour preservation, you can repeat the process if needed. For an added boost, follow with our Nutri Color Conditioner.
In the world of professional hair care, finding the right products tailored to your specific needs can be a game-changer. From the nourishing Nutri Repair Mask to the protective Heat Shield, each Sens.Us product is meticulously crafted to cater to different hair types and concerns.
Remember, caring for your hair doesn't end at the salon. It's a commitment that extends to your daily routine. By choosing products like Sens.Us, enriched with natural goodness and backed by years of expertise, you're investing in the health and vitality of your hair. Explore the range, identify what suits you best, and embark on a journey to hair that not only looks fabulous but feels it too. Here's to vibrant, healthy, and beautifully styled locks!